Our Treatment Team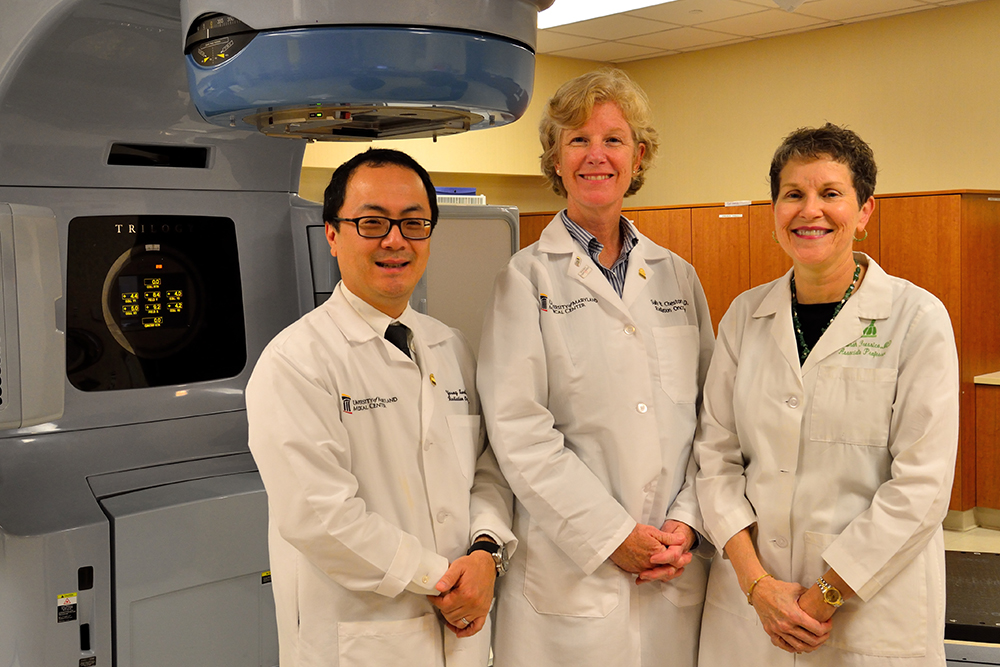 The friendly and professional team of experts involved in providing radiation oncology care at CMRO includes radiation oncologists, physicists, dosimetrists, oncology nurses, radiation techs and administrative staff.
Our physicians take advantage of the latest telemedicine technology to confer with other cancer experts at both the University of Maryland Medical Center and Johns Hopkins Medicine. This means our patients receive the most comprehensive, multidisciplinary care for the best possible outcomes.
In this video segment, you'll learn how CMRO radiation oncologists work with a variety of specialties to provide an in-depth treatment plan.

Dr. Cheston is medical director of Central Maryland Radiation Oncology and assistant professor of radiation oncology at the University of Maryland School of Medicine. With more than 20 years experience, she specializes in breast and lung cancer as well as new applications of IMRT. Dr. Cheston earned her medical degree from the University of Maryland School of Medicine, where she also completed her residency and fellowship in radiation oncology. Click below to watch Dr. Cheston describe her philosophy on patient care, and learn why she holds a terrible grudge against breast cancer.

Dr. Frassica has over 20 years of experience as a radiation oncologist and is recognized as an expert in musculoskeletal (primary and metastatic disease), breast, lung and colorectal cancers. Dr. Frassica received her medical degree at the Edward H. Ebert School of Medicine of the Uniformed Services University of the Health Sciences and continued her internship with the National Naval Medical Center in Bethesda. She completed her residency in radiation oncology at the Mayo Clinic and served in the United States Navy as a radiation oncologist for 10 years. She is an associate professor at the Johns Hopkins University. In the following video, Dr. Frassica discusses her clinical specialties and radiation's role in cancer treatment.

Dr. Kwok received his BA in Psychology from Johns Hopkins University in 1995. He received his MD from Albert Einstein College of Medicine (New York) in 1999. He completed an internship in Internal Medicine at Beth Israel Medical Center (New York) in 2000 before commencing his residency in Radiation Oncology at the University of Maryland Medical Center, which he completed in 2004. Dr. Kwok then joined the Department of Radiation Oncology at the University of Maryland School of Medicine as an Assistant Professor in 2004. He became an Associate Professor in 2011. Dr. Kwok's clinical specialty includes brain and base-of-skull tumors, pediatric malignancies, and genitourinary tumors, such as prostate and bladder cancer.